You may buy USBDeviceShare online from
http://www.sysnucleus.com/usbshare/
. Once you successfully complete the payment our electronic store will automatically send you the license file by email.
Using the license file, you can register your copy of USBDeviceShare Server and unlock the evaluation mode limitations. USBDeviceShare Client is free software and no registration is needed.
Registration Process
Upon starting the evaluation version of USBDeviceShare Server you can see the following nag screen.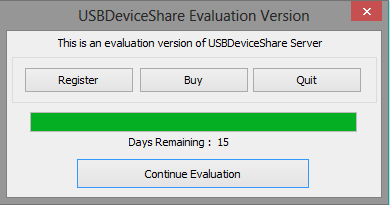 Click the 'Register' button to register and unlock your copy of USBDeviceShare Server. You should select the license file which you received while purchasing USBDeviceShare in the next window.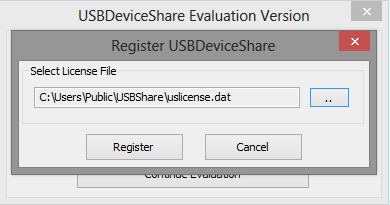 After selecting the license file, click the 'Register' button to complete the registration process. The following message will be displayed on successful registration.